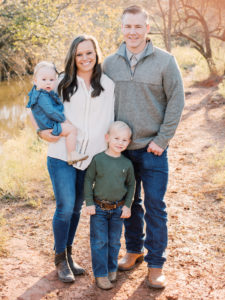 Wow, what a year 2020 has been so far! And, each day seems like it just gets crazier and more unpredictable. We are so thankful to have had our annual dinner on June 30th to celebrate our achievements of the 2019-20 year and look forward to the future. We invited 32 provisionals to become active members. We are eager and excited to put each of our members to work this next year to support our mission in a way we have never had to do before. 
Joining Junior League 10 years ago, my eyes were completely opened to the true poverty of Abilene. It makes my heart hurt to know 1000s of children in Abilene don't have the basic necessities I was provided growing up (food, clothes, basic hygiene). This makes me more thankful for the things that I was provided, but drives me to help these children that the Junior League supports. My reason for being in league is to help  mothers working hard to take care of their children on minimum wage jobs and children who struggle to survive without the opportunity to eat a wholesome meal, wear clean clothes on their back, and have proper hygiene. I want these kids to be motivated to be successful in life and make a difference in the community like I was when I graduated high school. I want to help break the poverty cycle our community experiences. The impact we have with our projects on these children today will last a LIFETIME with them and may be the spark they need to keep going or the encouragement they need to go out and be successful in their future.
From endless zoom meetings to social distanced work shifts, the Board of Directors are already working hard to maintain involvement in our community while keeping our members safe as they serve during the COVID-19 season. With all the uncertainty and children being out of school more, they need our support and project efforts more than ever before. Our goal with the Junior League is to continue to support and love our community the way we always have and make sure we raise the proper funds to support our projects. 
Our theme this year is "Courage, Compassion, and Connection" from Brene Brown's book 'The Gifts of Imperfection.'  According to Brown, these traits are the secret to living a wholehearted life. I encourage our members to have the courage to step out of their comfort zone and do something they never thought they could not do. When we pay attention, we see courage every day. Courage has a ripple effect. Every time we choose courage, we make everyone around us a little better and the world a little braver. I want to promote compassion for our members to each other and to the community we serve. The heart of compassion is really acceptance. The better we are at accepting ourselves and others, the more compassionate we become. And lastly, connection. Connection is defined as the energy that exists between people when they feel seen, heard, and valued; when they can give and receive without judgment; and when they derive sustenance and strength from a relationship. I want each member to feel seen, heard, and valued because each of them has a heart for service and a desire to enrich our community. 
I look forward to a challenging, but rewarding, year!
Best,
Belinda Southall
President, 2020-21