Welcome to the Junior League of Abilene, a women's organization committed to the mission of promoting voluntarism, developing the potential of women, & improving the Abilene community through the effective action & leadership of trained volunteers. 
As we begin our 70th year, standing firmly on the legacy of the incredible women that have created a lasting impact seen all around the Big Country, our devotion to the community remains steadfast. Our League has a rich history of empowering women, nurturing leadership, and effecting positive change in the Big Country. Today, you can find Active & Sustaining members of the League serving the community on non-profit boards and leadership, in civic leadership positions, and in corporate leadership positions. Each year, we invite like-minded women to join our mission. 
In Eleanor Roosevelt's 1937 autobiography, This is My Story, she describes her time as a member of The Junior League of the City of New York as many of us would describe our reason for membership: '…we were just a group of girls anxious to do something helpful in the city in which we lived'. 
The theme for this year, "Living Our Legacy" captures our determination to expand upon the legacy built by the Junior League women who came before us. We are committed to serving with intention, knowing that the time we spend today builds a better community for our tomorrow. 
We will continue to focus on the impact areas of Food Insecurity Resources, Health & Hygiene Resources, and Clothing & Other Necessary Resources. We believe that when basic resources are not available and basic needs cannot be met, children have no foundation for learning and growth.
These initiatives are only made possible by the work of our volunteers in organizing and hosting fundraising events each year coupled with the generous support of our sponsors & donors. This fall we will host Christmas Carousel at the Abilene Convention Center, November 2nd – 5th . We invite you to come enjoy with us as we kick off the holiday season with events for all ages & the finest shopping experience. I encourage you to spend time exploring our website to see all that the Junior League of Abilene has to offer. Whether you are interested in membership, becoming a community partner, or donating, we are so grateful for your support. 
I am honored to serve by the side of such a talented and devoted group of women who are dedicated to making an impact in our community, living our legacy one day at a time.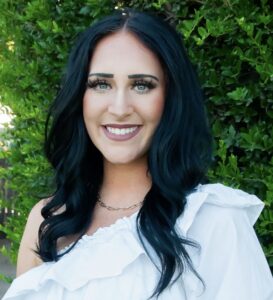 Sincerely, 
Kasey Johnson
President, 2023 – 2024