PAVE – Providing Assistance and Volunteer Experience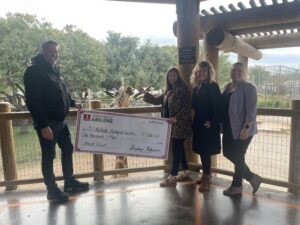 About PAVE
Providing Assistance and Volunteer Experience (PAVE) is the League's program to support non-profit agencies and outreach programs in Abilene through funding and/or volunteer hours. This project truly does "PAVE" the way for a better tomorrow for our community. PAVE has funded and/or provided volunteers for over 50 non-profit organizations in Abilene.
There are TWO JLA PAVE Applications: (1) a Grant (only) Application and (2) a Volunteer (only) Request Form.  Organizations that want a grant AND volunteers should fill out both forms.
Click here to explore how your organization can request a PAVE grant or PAVE volunteers.

2023-24 Selection Committee
Members who are serving on the committee this year include:
Melissa Yarbrough, PAVE Chairmen
Chelsea Rico
Alta Tarter
---

2022-23 PAVE Recipients
The Junior League of Abilene was able to provide $10,500 to local non-profit organizations in 2022-2023. These non-profit organizations include:

Abilene Zoological Society
Big Brothers Big Sisters
Big Country Aids Resources
Chorus Abilene
Communities in Schools
From Boys to Gentlemen
International Rescue Committee (IRC)
NCCIL
Ortiz Elementary School
St. Vincent Ballet Folklorico
The Grace Museum
Young Audiences/Abilene Arts Alliance
We also provided trained Junior League Volunteers to the following organizations:
Abilene Chamber of Commerce
Abilene Zoological Society
Children's Arts & Literacy Festival (C.A.L.F.)
Dia del Nino (Day of the child)
Otiz Elementary School
Stick Horses & Capes
The Grace Museum
Note: If you received funds and/or volunteers in 2022-23, please complete an online evaluation form. Click here to submit your evaluation form online.